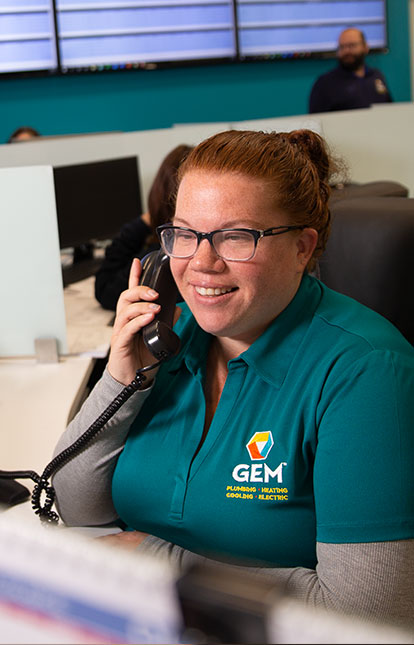 Questions? We're Here to Help!
Quality, Friendly Service in Southern New England
A clogged or slow drain is a common occurrence, and build-up in your drains can turn into a serious issue over time. GEM's Drain Cleaning department is here to help keep your drains in tip-top shape with regular maintenance. We can also investigate and determine exactly what the problem is when your drains are having an issue.

GEM Plumbing is prepared to tackle all your drain cleaning needs. We recommend cleaning the following types of drains at least once a year:
Bathroom Drains: Hair, soap scum, toothpaste, grime, toilet paper and other bathroom products can build up in your system and cause serious damage to your bathroom drains over time.

Kitchen Drains: With soaps, fats, grease and food all going down the drain in your kitchen sink, the inner walls of your kitchen pipes can easily get clogged, causing unwanted backup – even if you run your garbage disposal regularly.

Utility Room Drains: Dirt, debris, and other messes from daily life can clog up the floor drains in your basement, laundry room and/or utility room, leading to poor drainage and the potential for flooding.
We Offer Several Drain Cleaning Solutions for All Your Drain Problems:
Cable Machine Snaking: For clogs and stoppages in your tub, sink, or main drain lines, GEM uses our state-of-the-art Cable Snake Machine to clear the problem. We'll then check the line with our Drain Vision system, where a tiny camera is inserted to verify the drain has been cleaned of all debris.
Toilet Augering: For a typical toilet clog, we'll start by checking the seal and toilet mechanics first. If the issue is in the drain line, our Cable Snake Machine can get it out.
Drain Stoppages: Clogged drains are common, especially in tubs and shower stalls where soap and hair can buildup and slow the drain. There are some simple tips you can try to unclear your drain, but for more serious stoppages, don't hesitate to call GEM.
High Pressure Hydro Jetting: For serious clogs in your sewer or drainage systems, we use High-Pressure Hydro Jetting to clear the line. These water lines can be long runs of 100 feet or more, underground, and inaccessible for snaking. Hydro Jetting blasts water at 4000 PSI through the pipe and easily removes large obstructions and years of sediment buildup in your drains. Hydro Jetting will clear any roots infiltrating your pipes to avoid costly damages. Afterwards, we check the pipe with a camera to ensure all debris has been cleared.
Tree Root Solutions:
As pipes age and trees grow, tree roots will often creep into pipes in search of moisture and nutrients. GEM's plumbers have seen how far tree roots can travel up pipes and how easily they slip in through the tiniest cracks and joints to infiltrate your system. Once a tree root discovers water, the tree will often step up root growth in that area to take advantage of the moisture. As the roots grow, they increase the size of the hole can can cause a major clog or even a burst pipe. It's incredibly important to take care of tree roots right away, before they ruin your pipes.
Special Offers
Low Monthly Payment and No Interest Options

on qualifying Carrier Home Comfort Systems.

Call 1-877-902-1000 to redeem

$50 OFF

Any Service Performed

Call 877-902-1000 to redeem

$250 OFF

Heat/AC System Installs

Savings on Electric HVAC through Nationalgrid & Mass Save

Different rebates offered!

Call 1-877-902-1000 for more information
Ready To Talk To A Home Services Specialist?