Commercial HVAC Services in New England
Serving Connecticut, Massachusetts, and Rhode Island with licensed HVAC techs ready to take on your commercial heating and cooling needs.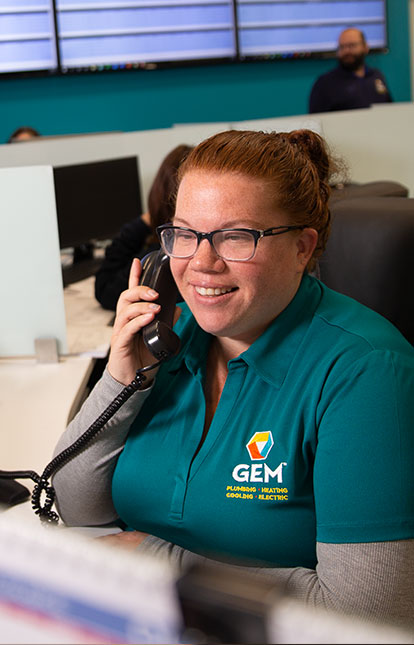 Questions? We're Here to Help!
Quality, Friendly Service in Southern New England
GEM's New England-based licensed heating and cooling experts can handle all your maintenance, repair or installation needs. From ductless to ventilation and sheet metal fabrication, GEM's commercial team will have the best solution for your business.
At GEM, we pride ourselves on our world-class customer service and solving the problem the first time. We look at your HVAC system as part of a whole and recommend solutions that address the root of the problem.
GEM offers a wide array of commercial services including:
Commercial Boiler / HVAC-R Services, Installations & Repair
GEM offers installation, cleaning, and maintenance on all systems we sell in New England. High-efficiency heating and cooling is our specialty at GEM. Let our technicians recommend the best solutions for building managers.
Ductless Mini-split Heat Pumps
The versatility and variety of applications for Mini-Split systems are virtually unlimited. They're an excellent choice for almost any cooling or heating situation.
Learn more about Ductless Mini-Split Systems.
HVAC Control Systems
Zoning Control systems can help balance your heating and air conditioning needs. Heat or cool down the parts of your building you want to, when you want to.
Ventilation and Indoor Air Quality
Air quality is vital to a comfortable and safe environment for your customers and employees. Poor indoor air quality has been shown to affect many health conditions, such as eye, nose, and throat irritation; frequent headaches; and fatigue.
View our Air Quality & Ventilation services.
Fire Protection
GEM's expert fire prevention team will work with your building team to install the right fire protection system in your facility. From smoke detectors and carbon monoxide detectors to overhead sprinkler systems, we've got you covered.
Sheet Metal Fabrication
One of the many benefits of choosing GEM is our in-house sheet metal fabrication capabilities. Our shop enables us to custom-build high-quality ductwork to your exact specifications. This saves our clients time and money on expensive structural alterations.
Gas Line Installation & Repairs
GEM is a National Grid VPI Installer, which means our technicians can connect your new gas appliance to your utility meter or propane tank.
Check out GEM's Residential HVAC Services
Call GEM Today At (833) 222-2953 For More Information On Our Commercial Services Or To Book Your Next Service Appointment.
Ready To Talk To A Commercial Specialist?