Plumbing Repair in Rhode Island & Massachusetts
When your plumbing makes a mess of your home, GEM's skilled technicians are there to clean things up.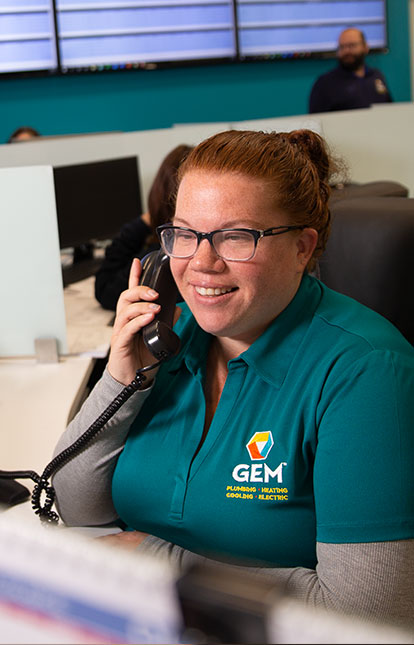 Questions? We're Here to Help!
Quality, Friendly Service in Southern New England
Offering Emergency Repair Services
GEM's licensed plumbers are ready to handle any kind of issue your pipes or fixtures may have. With decades of experience solving even the toughest plumbing problems, we are here for you and all of your needs.
If you are experiencing any of the following issues, GEM is here to help!
Bathroom Issues
Issues with the plumbing systems in your bathroom can be messy and unpleasant. Whether you are experiencing a clogged, leaking, or faulty toilet, shower, or sink faucet, GEM is here to handle it for you!
Other repairs that you might need in your bathroom:
Toilet will not flush
Hot water is not running
Bathroom faucet is clogged
Shower/bathtub is leaking or faulty
Any other emergency repairs!
Drain Issues
Drain cleaning is a GEM specialty. With our cutting-edge drain cleaning equipment, our licensed plumbers are especially equipped to handle any drain issues that you might be experiencing, no matter where the issue is occurring in your home, including:
Drain/sink is clogged
Drain pipe needs cleaning
Drain smells funny
Any other emergency repairs!
Check out these DIY tips on handling a clogged drain!
Kitchen Issues
Cooking is not as enjoyable an experience when you are experiencing plumbing issues in your kitchen. GEM is here to get you back on track! From garbage disposal clogs to leaky faucets, our licensed plumbers can do it all!
Pipe Issues
Pipes are very important parts of the plumbing system in your home, so if you are having trouble with your pipes, GEM Plumbing is here to take care of your every need. If you are experiencing any of the following issues with your pipes, GEM can handle it for you, leaving you worry-free!
Pipes are leaking
Pipes are cracked
Pipes are frozen
Any other emergency repairs!
View our services for Frozen Pipes and Leaking Pipes.
While regular maintenance helps prevent problems, the unexpected can still happen. When it does, GEM plumbing is at your service!
Ready To Talk to a Home Services Specialist?