Plumbing Maintenance Service in New England
A plumbing maintenance by GEM will help prevent plumbing emergencies in your home.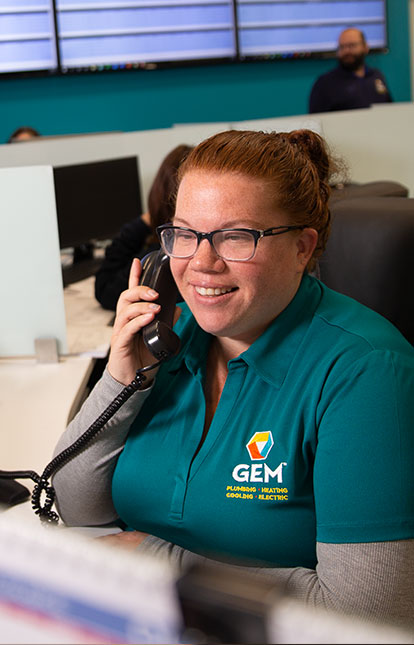 Questions? We're Here to Help!
Quality, Friendly Service in Southern New England
It is easy to not think about your plumbing until there is an emergency on your hands. Regular maintenance can help keep those emergencies from happening, by identifying small problems and preventing them from becoming big ones. Instead of waiting until a leaking pipe bursts or clogged drains lead to major water damage, call GEM to get the effective maintenance that your plumbing systems need to stay in optimal condition.
Planning ahead is an important step to take in the process of avoiding unexpected plumbing emergencies. The Home Advocate membership program offers peace of mind for your plumbing maintenance and repair needs, including memberships that cover annual maintenance and discounts on repairs. Learn more about plumbing coverage on our Home Advocate Memberships page.
Maintenance Services
Regular maintenance is crucial to extending the life of your system and making sure everything flows smoothly in your home or business. Maintaining your system has very important benefits to you and your home:
Prevents costly emergencies
Saves you money in the long run
Extends the life of your system
Whether you need a standard drain cleaning or more thorough maintenance, GEM is here for you. Our skilled and multi-licensed plumbers and drain cleaners are ready to help with any maintenance needs.
Maintenance services include:
Inspection
Regular inspections of your plumbing systems is key to early problem diagnosis. It is important to anticipate the existence of issues and locate them, before they become bigger problems!
Make sure to regularly do all of the following regular maintenance check-ups:
Check that all of your valves are functioning properly
Identify any leaks or cracks
Hydro Jetting
For serious clogs in your sewer or drainage systems, GEM Plumbing uses High-Pressure Hydro Jetting to clear the line. Hydro Jetting is an advanced drain cleaning technology in which a jet machine and water pressure is used to remove debris and buildup from your drains. These water lines can be as long as 100 feet our more, easily removing obstructions and sediment buildup in your drains.
Hydro Jetting is a cutting edge drain cleaning service and the most effective method for drain cleaning available in the plumbing industry. Drain cleaning is a GEM specialty, and we guarantee the successful cleaning of your drain by checking the pipe with a camera afterwards, to ensure all debris has been cleared.
Why Hydro Jetting?
Conventional cable snake machines offer great short-term solutions to clog removals, but they do not fully clear the inside of your pipes. Hydro Jetting helps eliminate future problems and ensure long-term solutions to clogged drains by scrubbing the inside of your pipes and removing all deposits.
This preventative maintenance measure, if performed regularly, is sure to be the best way to prevent clogs in your drains.
Winterization
Taking preventative measures before the deep freezes of winter affect your plumbing systems is key to making it through the coldest season unscathed. Especially in our cold New England winters, you need to plan ahead in order to avoid issues, such as:
Burst pipes
Holes and cracks in your pipes
Emergency repairs as a result of cold weather-related causes can be very costly. You do want a damaged wallet on top of your damaged system. GEM is here to protect your home plumbing system, before the first deep freeze of the year.
In order to prepare for winter, make sure to do all of the following regular maintenance check-ups:
Ensure any outdoor spigots are emptied and turned off
Ensure that your pipes are insulated, especially if they are exposed to the cold
Install heating cables, if necessary
To keep your plumbing system in tip-top shape, and hassle-free, GEM is at your service to handle all of your regular maintenance needs.
Ready To Talk to a Home Services Specialist?