About GEM Plumbing, Heating, Cooling, And Electrical
Our mission is to delight homeowners with trusted expertise and next-level service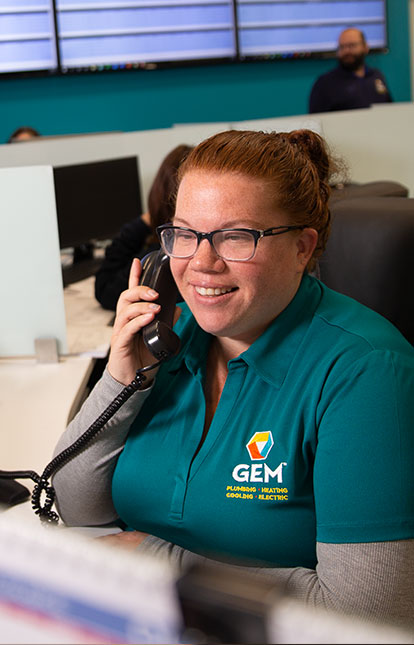 Questions? We're Here to Help!
Quality, Friendly Service in Southern New England
A Family Company Serving Millions of Neighbors In MA & RI
GEM Plumbing and Heating was founded on the principles of family, community, and courtesy. Larry Sr. and Gloria Gemma started up the business in 1949 with those values in mind, and brothers Larry, Lenny, and Eddy Gemma continue to lead the company with the same principles, delivering heating, plumbing, and electrical services to homeowners, commercial clients, and mechanical projects throughout Rhode Island and into Massachusetts and Connecticut.
With over 350 employees, 165 trucks (and counting), and two regional offices, GEM has grown into one of the largest service companies in the United States today. Our 70 years of experience in the plumbing, electrical, and heating and cooling trades helps us deliver superior service no matter the issue, and our reach allows us to be there when you need us most!
Areas We Serve
Different regions have different regulations, restrictions, and requirements when it comes to installations, repairs, and maintenance. That's why the GEM experts at each of our local offices have a deep understanding of local code and the level of service your home needs.
We have several branch offices that serve dozens of cities and counties in southern New England. Check out our locations below for more information on our service areas and our offerings.
headquarters
1 WELLINGTON ROAD
LINCOLN, RI 02865
Branch office
115 MENDON STREET
BELLINGHAM, MA 02019
BRANCH OFFICE
220 HIGH STREET
TAUNTON, MA 02780
BRANCH OFFICE
222 MID-TECH DRIVE
WEST YARMOUTH, MA 02673
---
Committed To Our Community
Our neighbors are important to us, and we're determined to make life better for them today and in the years to come.
GEM is delighted to serve Rhode Island and Massachusetts residents in a number of ways, from education and fundraising to support our most vulnerable. Learn more about what we've been up to — take a peek at GEM in the community.
An Eye On Innovation And Service
Our goal is to stay true to our roots while we work to improve our service. We offer tailored memberships to help you save time and money on routine maintenance, plus access to priority service and special discounts. Our aim is to make it as easy as possible for you to take care of your home — find the Home Advocate membership that suits you.
Our Team
Joseph Andrade, President, Home & Commercial Services
jandrade@gemplumbing.com
Wendy Dumas , Executive Assistant
wdumas@gemplumbing.com
Careers At GEM
Interested in joining the GEM family? Whether you're a master technician or just getting started, we have great opportunities across all trades, and we're hiring for a number of office roles. Take a look at our latest opportunities.
Ready To Talk to a Home Services Specialist?