Garbage Disposal Services in New England
Your kitchen is in safe hands with our garbage disposal services.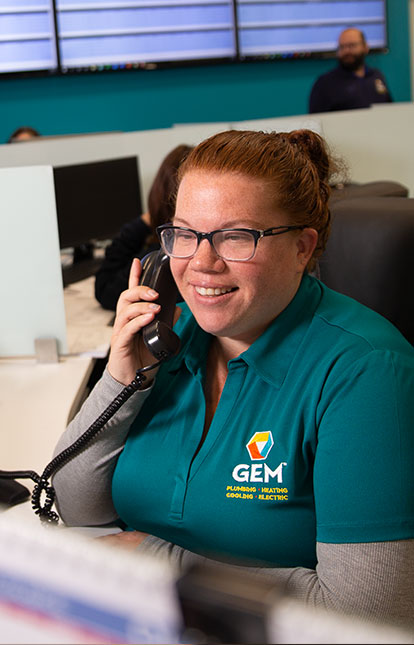 Questions? We're Here to Help!
Quality, Friendly Service in Southern New England
Garbage Disposal Installation & Repairs
Are you looking to make kitchen clean-up a little easier? Installing or upgrading your garbage disposal may be your best option! In less than a day and at a great price, our team at GEM can repair or install a garbage disposal in your kitchen to improve your cleaning routine.
Contact us today and get $50 off for any garbage disposal repair or installation through December 31st –– perfect timing for the holiday season!
What can go wrong with my garbage disposal?
From daily meals to large holiday feasts, your garbage disposal works hard to churn the food you put down the drain. Over time, this food can clog your garbage disposal, making kitchen cleaning more of a hassle.
As easy as it is to toss leftovers in the sink, there are a few food items you'll want to avoid putting down your garbage disposal:
Potato skins and banana peels
Animal bones
Coffee grounds
Seafood and egg shells
Fat, oils, and grease
While it may seem harmless in the moment to put these items down the drain, they can cause the following problems with your garbage disposal:
Leaks: Different parts of your disposal like the plumbing connection, drainage hose, or the outer casing can develop leaks and lead to water damage, pest infestation, or mold growth.
Clogs: If too many of the wrong foods land in your drain, your garbage disposal can clog, straining your system and overall kitchen cleaning process.
Jams: Is your disposal making loud humming noises but not grinding any food? There may be a jam in the drain pipe as a result of excess food waste.
Odors: If you're noticing unpleasant smells from your disposal, there are likely trapped food particles in the drain due to an insufficient amount of water feeding the drain.
If you're dealing with any of these garbage disposal issues, GEM's repair services will make sure to get your kitchen sink and clean-up back on track.
Go for GEM to Handle Your Garbage Disposal in New England
Cooking is much more enjoyable knowing your kitchen's garbage disposal is working properly. If your garbage disposal is acting up or you're looking to install a new one, GEM's repair and installation services are here to help!
Call us today for your garbage disposal repair or installation in New England.
Ready To Talk to a Home Services Specialist?