HVAC Maintenance & Tune-Ups in Rhode ISland & Massachusetts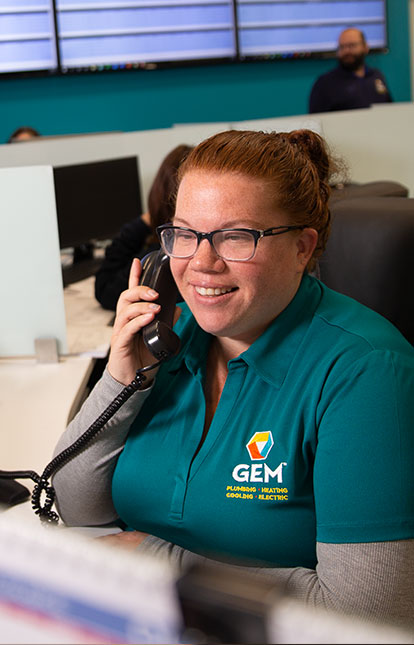 Questions? We're Here to Help!
Quality, Friendly Service in Southern New England
Like most homeowners, you're probably on a tight budget when it comes to home maintenance and repairs. Unfortunately, heating and cooling systems always seem to go out in the dead of winter or the hottest day of summer.
Most people don't think about their Heating & AC systems until there's an emergency, but regular maintenance can help ensure small issues don't become big ones.
We recommend tuning up your heating and cooling system at least once in the fall and once in the spring to ensure it works well all year long. Call GEM today to book your tuneup, installation, or repair. Want to plan ahead? The Home Advocate membership program offers peace of mind for your HVAC maintenance and repair needs. Your monthly package covers annual HVAC maintenance and discounts on repairs.
Maintaining Your Heating & AC Lowers Your Costs Over Time
Regular maintenance helps your heating system run efficiently, for more years, which saves you money in the long-run. And well-maintained heating and cooling systems are better at keeping your home at the desired temperature.
Maintenance also prevents costly emergencies.
As a family company, GEM's brand stands for quality and trust – we'll treat your home like it's our own. Our courteous heating and cooling technicians are ready to help with any maintenance needs.
AC Tune-ups
Comprehensive cleaning of the condenser and evaporator coils, which increases efficiency (lowering energy costs) and can reduce wear and tear on your system.
Evaluation of the coolant / refrigerant level to help maintain peak operating performance. We'll top off your refrigerant, and Home Advocate members receive their first 2 pounds or $200 of refrigerant included as part of their membership.
Lubrication of all moving parts to eliminate friction and wear that can increase your energy costs.
A full calibration of your thermostat to verify proper operation.
An inspection of the ductwork for possible energy loss.
Tightening and inspection of all electrical connections to verify safe system operation.
Evaluate the performance of the blower motor and the condition of the blower belt.
Clean, check, or replace filters.
Furnace Tune-ups
Check the vent system, flue, and air intake grills for leaks or blockages.
Examine the heat exchanger for signs of corrosion and cracks or separations. A damaged heat exchanger can release carbon monoxide into your home.
Check the blower and clean its components.
Lubricate all the moving parts to reduce friction and energy consumption.
Check that all electrical connections are tight and examine the wiring for signs of rust or corrosion.
Calibrate the thermostat – this makes your home more comfortable and helps you save money on energy bills.
Test the unit's safety controls, including checking the high limit control, which reduces the risk of fire.
Test that the system's startup cycle is functioning correctly.
Clean, check, or replace filters.
Boiler Tune-ups
Inspect your boiler and controls to make sure they are operating safely.
Check your boiler for corrosion or leaks.
Remove the boiler casing to check the function of the main components.
Check flue and other air vents to ensure that no unsafe emissions, like carbon monoxide, are being released from your boiler.
Clean parts as required to reduce friction and energy consumption.
Oil-fired Heating
Gem Plumbing & Heating also provides boiler and furnace cleaning for oil-based heat systems, which should be done at least once a year. Oil-fired boilers and furnaces tend to produce carbon and sulfur, which can leave nasty residue on your chimney or even the wall area surrounding the boiler or furnace. Even worse, soot buildup in the chimney can prevent harmful substances like carbon monoxide, water vapor, and nitrogen from leaving your home, which can cause a serious health hazard for the home's inhabitants.
Performing regular maintenance will help you keep your home's equipment functioning properly, lower your energy bill, and save you money over time by extending the life of your heating machinery. Maintenance also helps increase your family's safety by ensuring ventilation, electrical connections, and other system components are working properly. Want to plan ahead? The Home Advocate membership program offers a variety of options for anticipating your HVAC maintenance and repair needs, including monthly packages that cover annual HVAC maintenance and up to $500 off any repairs.
Ready To Talk to a Home Services Specialist?