Top-Rated Heating Services in Massachusetts & Rhode Island
Our expert commercial and residential technicians are here for all your heating needs in New England.
Massachusetts & Rhode Island's Go-To Heating Contractors
At GEM Plumbing, Heating, Cooling & Electrical, we proudly serve the heating needs of Massachusetts and Rhode Island residents, with a strong presence in Suffolk, Norfolk, and Worcester counties.
Our commitment to unparalleled service has earned us a reputation as the top-rated heating service provider in the region. We stand out through our dedication to quality, speed, and affordability.
Reliable Furnace Installation, Repair & Maintenance
Whether you're looking to upgrade your heating system or need a new installation, GEM's heating experts are with you every step of the way.
Our certified technicians use advanced tools and techniques to deliver quality, comprehensive heating services, including furnace installation, repair, and maintenance. 
Leave it to the heating experts at GEM for quality furnace services in your Massachusetts or Rhode Island home.
Schedule service today by calling (833) 222-2953.
Our Boiler Solutions
Boiler heat systems account for over 60% of home energy use, using natural gas to heat the water throughout your home. These systems are complex, and as such, they require proper, regular maintenance to run effectively.
With GEM, you can depend on our certified technicians for expert heating services for residential and commercial properties. Our services include:
Boiler installation: Our heating experts service all major brands of boilers to deliver a fast and simple installation.
Boiler repair: Noticing unusual noises or odd odors? Dealing with inadequate heating levels, faulty pilot lights, or water leaks? Leave it to GEM to identify issues with your boiler and quickly implement a lasting solution.
Boiler maintenance: GEM's technicians will inspect your air vents, water levels, pilot lights, and more to ensure your heating system's efficiency and smooth operation.
At GEM, we offer several financing options as well as specials and discounts to keep your heating needs within your budget.
Trust GEM's heating professionals. Call (833) 222-2953 to schedule boiler service today.
Comprehensive Heat Pump Services
Heat pumps serve as a dual-efficient system that will pump heat out of your home in the summer and into it in the winter. What's more, they don't use as much energy as traditional systems.
The expert technicians at GEM are ready to bring the highest quality comfort to your home as we serve all heat pumps, including:
Air-to-air: Transfer heat or cooling from the outside air.
Water source: Transfer heat or cooling from a water source.
Geothermal: Transfer heat or cooling from the ground.
Schedule heat pump service for your Massachusetts or Rhode Island home by calling (833) 222-2953.
Ductless Mini-Splits
If your Massachusetts or Rhode Island home doesn't have ducts, don't worry. GEM offers service on ductless mini-splits to ensure proper heating and allow you to control the temperature in individual rooms.
Mini-split systems are similarly energy-efficient and come with a range of additional benefits such as:
Quiet: Say goodbye to noisy condensers. Ductless mini-splits are quiet yet powerful while also taking up less space in your home.
Easy installation: With just a small hole to connect the indoor and outdoor components, your mini-split system can be installed with little disruption to your home or office.
Location flexibility: Mini-splits can be installed almost anywhere in your home as they require no ductwork, allowing you to have the exact temperature you want in any room. They also come with an anti-allergen filter and prevent the cross-flow of contaminated air.
Call (833) 222-2953 to schedule reliable same-day services on ductless mini-split systems.
Benefits of Installing Heating Systems with GEM Plumbing & Heating
Whether you're looking for heating system installation, repair, or maintenance for your Massachusetts or Rhode Island home, you'll get nothing but the best when you leave it to GEM; a family values company since 1949.
The customer is our number one priority, and we work hard to bring you:
Same-day service
Free estimates on replacements
Upfront pricing
Experienced, licensed technicians
Financing options
Military and senior discounts
For all-inclusive heating services in Massachusetts or Rhode Island, call (833) 222-2953 to schedule service with GEM today.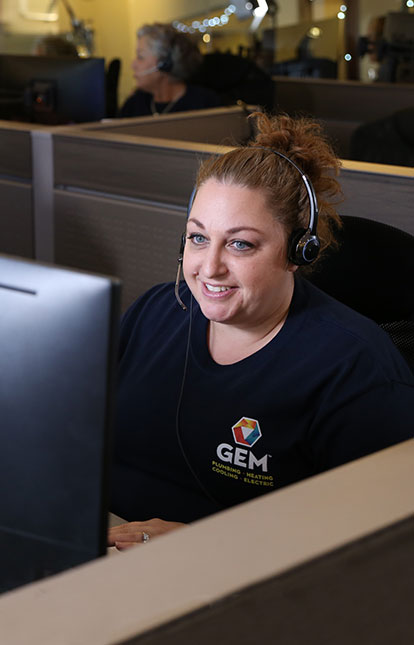 Questions? We're Here to Help!
Quality, Friendly Service in New England
Ready To Talk To A Home Services Specialist?