Residential Indoor Air Quality
Indoor air quality testing and solutions to improve your home health.
Ready to Improve Your Air Quality?
If you're ready to take the next step in your home's indoor air quality, schedule your appointment online now.
Need More Information?
Our experts are ready to answer all of your indoor air quality questions.
Let Us Improve Your IAQ
The right maintenance routine can help you stay ahead of major hazards, but you'll also want to partner with experts to get cleaner, fresher, safer air inside your home.
There are factors and habits that can enhance indoor air quality (IAQ) and those that prevent it. Here at GEM, we focus our efforts on a few crucial areas to keep your household safer and healthier.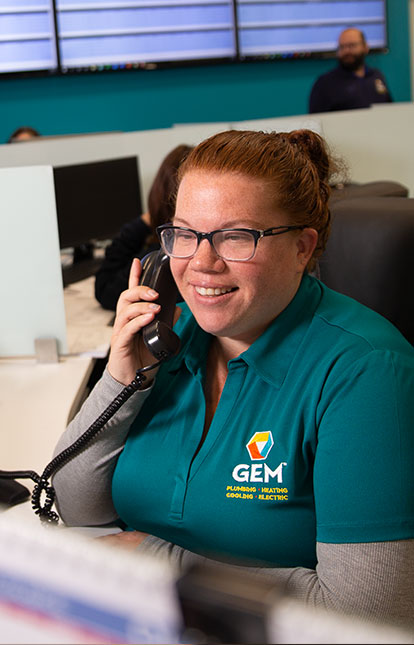 Questions? We're Here to Help!
Quality, Friendly Service in Southern New England
What to Know About Indoor Air Quality
Do you have pets in your home, suffer from allergies or asthma, or feel like your throat, skin, or eyes are dry? If so, you may have issues with indoor air pollution.
Even if your family isn't struggling with uncomfortable symptoms, you could have an air quality problem. According to the U.S. Environmental Protection Agency, indoor air quality can be four to five times worse than outdoor air quality!
Why Does Indoor Air Quality Matter?
You don't want to be breathing in things like mold, mildew, dust, or smoke. But what about the dangers you can't detect? Carbon monoxide and other gases, fumes, and airborne bacteria are some of the nasty threats that could be hanging in the air around you.
Poor indoor air quality can cause health conditions like asthma attacks, frequent headaches, and respiratory irritation. It can also harbor viruses and help them spread — something you don't want to risk as we navigate the COVID-19 pandemic.
Take Care of Your Air
Keeping your indoor air clean and safe is a team effort. Here's what you can do right now on your own, and where experts can help raise the bar (and keep it up).
DIY Indoor Air Quality Improvements
Some IAQ maintenance is as easy as flipping a switch or pushing a vacuum. Start by opening a window or two: let the great outdoors pull out polluted air and introduce fresh air.
Fans are helpful tools, too. Attic fans, window fans, or window air conditioners will boost airflow, while kitchen and bathroom exhaust fans vent outside to remove residue and contaminants.
What's lurking underfoot? Since allergens tend to hide in carpets, flooring, and fabric, pay extra attention to those places during your daily and weekly cleaning.
Regular Maintenance From the Pros
Maintaining your systems can play a huge role in keeping your indoor air clean and safe, too. Here's what you can do with the help of an expert:
Installing Filters on Your Air Intake
Filters help control contaminants that would otherwise recirculate through the home
If you suffer from severe allergies or asthma, we recommend changing the filters in your HVAC system as often as every two months
Preconditioning With a Heat Recovery Ventilator
A heat recovery ventilator uses heat exchangers to transfer 60-80% of the temperature from the outgoing air to heat or cool incoming fresh air
The incoming and outgoing air flow through different sides of the ventilator, which mixes the temperature without mixing the air itself
Add a Booster Fan to Your Kitchen or Bathroom
Booster fans are small, separately switched fans that can control the moisture and heat that come from cooking and showering
They remove odors and pollutants quickly
Call GEM today at (833) 222-2953 to learn more about air quality and determine the right option for you.
Improving Airflow and Air Quality
You can change, upgrade, or add to your systems to boost your indoor air quality
Air Quality Testing
Get a baseline for your indoor air quality before you take steps to improve it.
Our technicians use a device to test air quality in each room in your home, paying special attention to rooms of higher concern (such as basement closets or utility rooms).
We also can test your smoke detectors and carbon monoxide detectors to ensure they're working as expected, so you can count on an alert if dangerous gases seep into your home.

Why You Can Trust Us
For 70 years, GEM has enriched the lives of our employees, customers, and the communities we serve with exceptional services. Our team is determined to deliver the best solutions for your home.
When it comes to improving your indoor air, you can rely on our experts: we bring a strong service record and solid assurance that the job will be done right, the first time.
Ready To Talk to a Home Services Specialist?