Kitchen & Bath Remodeling in New England
When it's time to add plumbing services to your kitchen, bath, laundry, or utility areas, GEM will install new fixtures and faucets or upgrade existing hardware.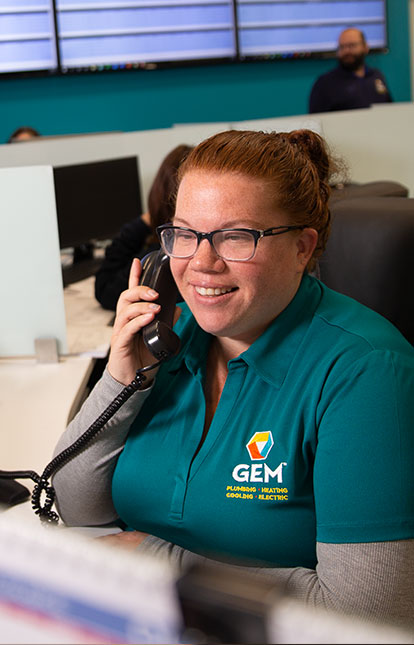 Questions? We're Here to Help!
Quality, Friendly Service in Southern New England
Our expertise helps you navigate the latest plumbing technologies and equipment for all your remodel needs, like the newest body jets for your shower or electronic faucets in your kitchen.
GEM Plumbing can also help you upgrade existing fixtures, like eliminating faucet drips or switching to a low-flow toilet, faucet, or shower head that conserves water and helps lower your water bill. GEM installs all major brands of residential plumbing equipment, and plumbing installations and upgrades are our specialty.
Our skilled plumbing professionals will efficiently install your new equipment to work perfectly with everything else in your home. GEM's expert plumbers can also recommend the right solutions for your remodeling needs. Our plumbers pride themselves on fast and accurate work, done right the first time.
When you need to update or upgrade the plumbing fixtures in your home, call GEM!
Kitchen and Bathroom Services We Offer Include:
Kitchen Faucets
If one of your faucets is constantly dripping, it could be the cause of a higher water bill.
Don't let a damaged faucet cost you! Upgrading your faucet can help eliminate leaks, prevent future plumbing damage, and put money back in your pocket.
GEM can also install the latest in plumbing technology, including hands-free, motion activated faucets.
Bathroom Faucets & Toilets
Don't wait to update out-of-date or older bathroom fixtures!
Even the most minor updates to your bathroom can boost property value, home comfort, and energy efficiency.
Updates can also help prevent potential damage from leaks, floods, or other plumbing problems.
Whether you're swapping out a shower head or moving the sink to the other side of your bathroom, call GEM Plumbing for all your plumbing needs.
Garbage Disposal
Need to replace a faulty garbage disposal or install one in your home for the first time? GEM Plumbing is here to help!
We can determine the right garbage disposal for your needs and install it in no time.
Hot Water Dispenser
Everyone loves a hot cup of tea or coffee, especially during cold New England winters.
Let GEM Plumbing install a hot water dispenser for you on your kitchen sink – you can even set the temperature to your exact preferences.
Drinking Water Filter
Even though tap water is technically drinkable, lots of people still think it tastes bad.
GEM Plumbing can install a water filtration system for your whole home or directly in your kitchen.
Learn more about our water quality, filtration, and softening services
Appliance Hook Up
Ready to add or replace a kitchen or laundry appliance?
GEM can hook up water, gas, and/or electricity for your dishwasher, washing machine, stove or more.
Cooking Upgrades
An above stove water tap allows you to fill your pots up quickly without having to carry them from the sink to the stove.
Adding a sink to your kitchen island helps free up countertop space.
Spa Bathroom
Steam showers are a great way to unwind and relax.
A separate bathtub and shower create a spa-like feel in the comfort of your own home.
Updated rain showerheads and faucet fixtures bring your bathroom to the next level.
Ready To Talk to a Home Services Specialist?