Air Conditioning Services in Rhode Island & MAssachusetts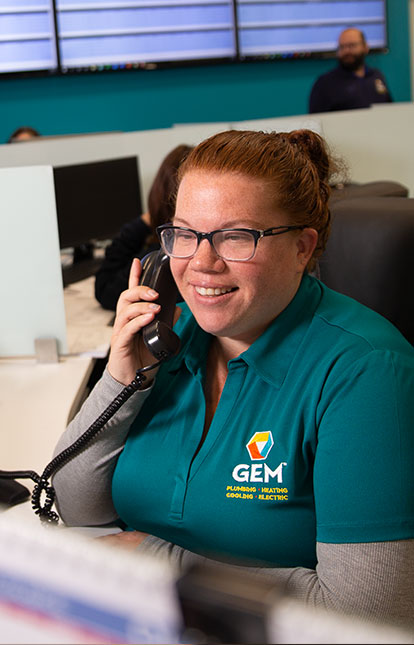 Questions? We're Here to Help!
Quality, Friendly Service in Southern New England
Is your furnace or boiler using ductwork and vents to heat and cool your home? Then you most likely have central air conditioning. Central air conditioning uses an outdoor condenser to move cool air through the ductwork in your home. Systems that can provide both heat and cool air through your ducts and vents are also referred to as forced air systems.
Whether you need a seasonal tune-up, service for your existing system, or you're looking to install a new air conditioning, GEM's highly skilled and trained technicians are ready to help. We install, maintain, and service all major brands.
Common Air Conditioning Problems
Improper Operation
If your air conditioner is running, be sure to close all windows and outside doors.
On particularly hot, sunny days, you may also want to close your blinds or curtains to help keep the sun out.
Improper Installation
Sometimes, air conditioners don't work properly because they weren't installed correctly.
Your AC system may not have enough power, or your ductwork may not be designed well to help air move through your home.
Inadequate Maintenance
Air conditioning systems should be inspected and tuned up at least once a year.
Not servicing your AC unit annually can cause increased friction and clogged filters, so your AC has to consume more energy.
It can also cause your AC system to wear out sooner.
Stay on top of regular maintenance with our Home Advocate memberships – learn more today!
Coolant Leaks
Make sure you have enough coolant or refrigerant for your AC to work properly.
If your refrigerant is leaking, topping it up won't help – it will just leak out again!
After repairing any leaks, your technician will charge your air conditioning system with the right amount of refrigerant (to manufacturer specifications).
Electrical Control Failure
AC systems should last for 10-20 years. However, the compressor and fan controls can wear out, especially when your air conditioner cycles on and off frequently.
Wires and terminals can also corrode over time.
We recommend checking the electrical connections and contacts every year – included when you schedule an AC tune-up with GEM.
Sensor Problems
Indoor air conditioners feature a thermostat sensor, located behind the control panel, which checks the temperature of the air coming into your air conditioning unit.
If the sensor is knocked out of position or not working, it could cause your AC unit to cycle constantly or behave erratically.
Drainage Problems
When it's humid or raining outside, check the condensate drain to make sure it is draining properly and not clogged.
Call GEM today at (833) 222-2953 if you're experiencing any of these problems – we're here to help!
Tips for Lowering the Cost of Cooling Your Home:
Install and set a programmable thermostat. This can help you save up to 10% on heating and cooling costs each year.
Use a ceiling fan, which allows you to raise the thermostat up to four degrees without affecting your comfort.
Insulate your attic and walls, taking care to seal cracks and openings to prevent warmer air from leaking into your home.
Insulate and seal ducts to reduce cool air loss through the ducts.
On hot days, consider using an outdoor grill instead of your oven.
Install energy-efficient window coverings that let natural light in but prevent your house from heating up due to the sun.
Buy a more efficient AC unit. Newer models can be 20-50% more efficient than older models.
Use the bathroom and kitchen fans – these help remove heat and humidity from your home.
For more info on how AC works and tips on how to efficiently cool your home, check out the Energy Saver 101 Infographic from the US Department of Energy
Ready To Talk to a Home Services Specialist?