Top-Rated Furnace Repair in RI & MA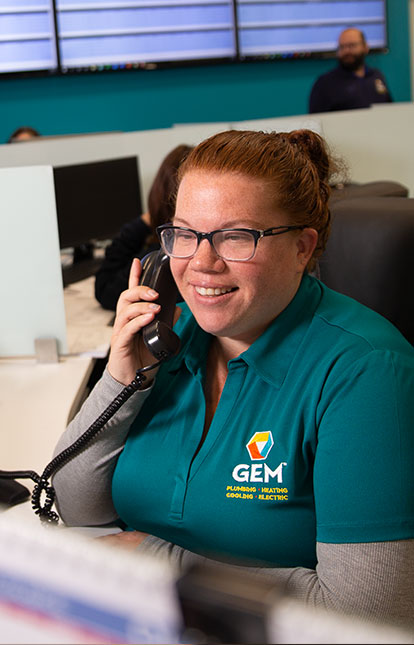 Questions? We're Here to Help!
Quality, Friendly Service in Southern New England
emergency & same-day furnace repairs
In the freezing Rhode Island and Massachusetts winters, a fully functioning furnace system isn't just a luxury — it's a necessity. When the temperatures drop, you rely on your furnace to keep your home warm and comfortable.
GEM Plumbing & Heating has served the Rhode Island and Massachusetts communities since 1949 and is the go-to heating company for all your furnace repair needs. We offer upfront pricing, background-checked technicians, and same-day service.
We Offer 24-Hour Furnace Repairs
Furnace breakdowns can happen at the most inconvenient times, leaving you in the cold. GEM Plumbing & Heating knows the urgency of these situations, which is why we offer 24-hour furnace repairs. Our experienced technicians are just a call away, ready to respond quickly to your emergency with fully stocked vans.
Contact us today at (833) 222-2953 to schedule emergency furnace repairs.
Routine Maintenance Can Save You from Frequent Furnace Repairs
Regular furnace maintenance is your first line of defense against costly repairs and breakdowns. Our maintenance extends the life of your furnace and improves its efficiency, helping you save on energy costs. We also catch potential problems before they become major repairs.
Join our maintenance plan and enjoy regular tune-ups and priority service, ensuring your furnace remains in optimal condition year-round.
Join our maintenance plan and start saving. Call GEM Plumbing & Heating at (833) 222-2953.
When to Replace Instead of Repair Your Furnace
Sometimes, your furnace is beyond repair, and it's best to consider an energy-efficient replacement. Recognizing the signs it's time to replace your furnace can save you from the hassle of frequent, costly repairs and help you make the right decision for your home heating needs.
Signs it's time to replace your furnace include:
Age of the system: Furnaces typically have a life span of 15 to 20 years, and their efficiency can decrease over time. If your system has surpassed its service life span, it might be time to consider a replacement.
Costly repairs: When repairing your furnace exceeds 50% of the replacement cost, replacing the system is more cost-effective.
Frequent repair needs: If you're calling for repairs multiple times a season, replacing the entire system may be more cost-effective.
Reduced efficiency: An aging furnace may become less efficient, leading to higher energy bills. A newer, energy-efficient model can offer significant long-term savings.
At GEM Plumbing & Heating, we offer next-day installations to ensure you won't be without heat for long, and our commitment to free estimates on replacements allows you to make an informed choice without any financial surprises.
Get a free furnace replacement quote when you call GEM Plumbing & Heating at (833) 222-2953.
Why You Should Choose GEM Plumbing & Heating for Your Furnace Repair
At GEM Plumbing & Heating, we take pride in serving the communities of Rhode Island and Massachusetts with unmatched furnace repairs. Rely on us for:
24-hour service: We're available 24/7 for your furnace emergencies.
Same-day service: We aim to provide same-day service whenever possible.
Free estimates on replacements: Get a clear picture of your replacement options with no hidden costs.
Upfront pricing: Our upfront pricing ensures you know exactly what to expect.
Financing options: We offer financing options to make your furnace repair or replacement more affordable.
Schedule furnace repairs for your Rhode Island or Massachusetts home today. Call GEM Plumbing & Heating at (833) 222-2953.
Ready To Talk to a Home Services Specialist?