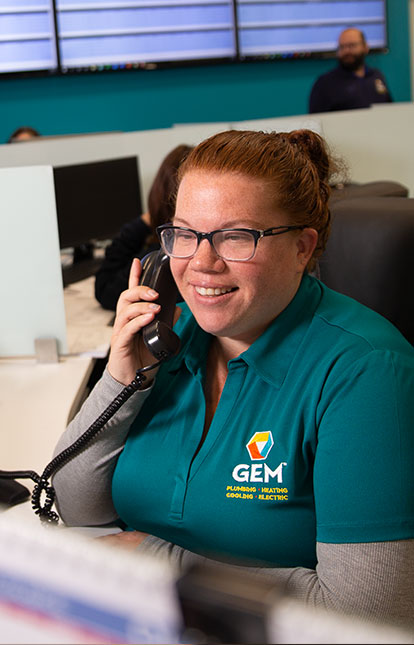 Questions? We're Here to Help!
Quality, Friendly Service in Southern New England
Your thermostat allows you to control when and at what temperatures air is moved through your home. New, high tech thermostats offer a convenient way to automatically control temperatures in your home for optimal comfort and efficiency.
GEM is a National Grid VPI Installer. We can install all the latest high-tech equipment that makes your home a "connected home" AND comes with National Grid rebates!
Whether you want to control your thermostat from your smartphone, program custom heating and cooling schedules or just want a digital thermostat that changes temperatures easily, we carry products from the top manufacturers like EcoBee, Lennox , iComfort, Tekmar, Nest, and Honeywell.
Why Upgrade to a New Thermostat?
Energy bills account for a large percentage of your utility bill, all year round – and a lot of your household's energy bill is likely driven by your HVAC system.
Upgrading your thermostat is a great way to reduce your energy cost without compromising your comfort.
An upgraded thermostat also gives you more control over the temperature in your home, often from your smartphone – which means that if you forget to turn down the AC before you leave the house, you can do it remotely via Wi-Fi.
Modern thermostats are also easier to use than older models because they come with lit LED touchscreens and digital controls.
Plus, many older thermostats are not compatible with newly installed zoned HVAC systems.
Programmable Vs. Smart Thermostats
With lots of new devices on the market, it's hard to keep everything straight!
PROGRAMMABLE thermostats are digital thermostats that give you the tools to automatically make temperature changes in your home.
You can adjust the temperature in your home more accurately than a traditional, manual thermostat.
You can program your heating or cooling schedule, for instance keeping your home at one temperature while it's empty and a more comfortable temperature when you're home.
This helps you save money on your energy bills, but keeps your home comfortable when it's occupied.
SMART thermostats have more features, are easier to use, and better integrate with your daily life.
Often connected to WiFi and controlled from your smartphone
You can easily change the temperature and make heating / cooling schedules.
You can also monitor your energy use in real time to track the efficiency of your HVAC system.
Smart thermostats are the most technologically advanced, and for many people, they are also the most intuitive. However, they do have a higher purchase price than many programmable thermostats.
If you're ready to upgrade your thermostat, call GEM today and ask about available offers – including rebates from National Grid and Mass Save.
Ready To Talk to a Home Services Specialist?