Home Maintenance Plans
Make taking care of your home easy and simple with a GEM Maintenance Plan.
Peace of Mind, Worry Free Coverage
Maintaining your home can be stressful. Let us help! As a GEM member, you can trust that you're in good hands. Maintenance memberships are available for all of your home needs: heating, cooling, electrical, plumbing/drains, water heaters, and outside water/sewer.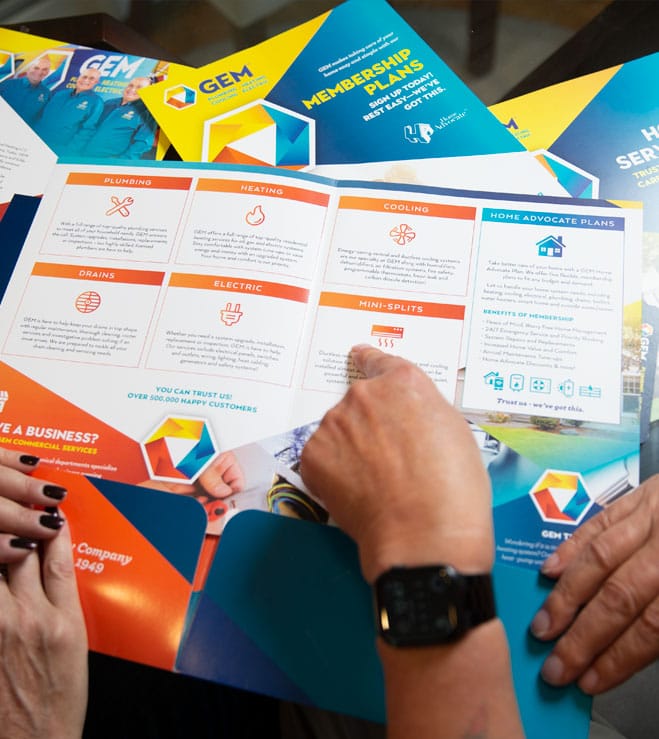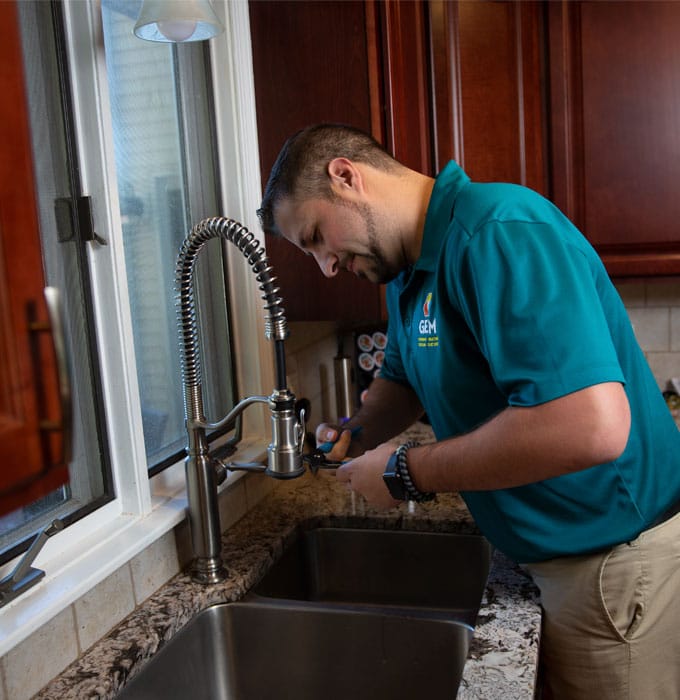 Your Maintenance Plan Includes:
Cover single systems for $20/month ($30 for oil)
Each system includes 1 annual maintenance tune-up (valued up to $400)
Priority Service
Annual $250 credit towards the installation of a new heating or cooling system with Whole Home Coverage.
Whole Home Coverage starting at $40/month (4 systems)
Maintenance Reminders
10% discount on GEM Services not covered by your plan
Frequently Asked Questions
Memberships – Benefits
What are the benefits of a GEM and home advocate membership?
A Gem and Home Advocate membership is hands-down the easiest, most cost effective way to take better care of your home! Benefits of being a Home Advocate member include: Increased home value & comfort: We know how stressful maintaining your home can be, so let us take care of it for you. Unlimited access to Remote Assist by HomeX(SM): Our partnership with HomeX gives all Home Advocate members unlimited access to HomeX Remote Assist Technicians who can assess your problem and may even be able to help you fix the issue without a home visit. Keep your home in great shape and have peace of mind, no matter the hour, with a Gem and Home Advocate membership. Peace of mind, worry free: As a Home Advocate member, you can trust that you're in good hands with Gem. 24/7 emergency service: We promise you'll get the help you need quickly, no matter the hour. Save money, do more: With a Gem and Home Advocate membership, you'll spend less money to take better care of your home.
What isn't included with my GEM and home advocate membership?
Home Advocate memberships are designed to cover as much as possible, but there are a few things that we don't include. Today, Home Advocate memberships do not include replacements of equipment that cannot be fixed or service for appliances. In the coming months, we are working hard to add options for appliances, roofing, home security, and more.
What maintenance do I get with my GEM and home advocate membership?
Gem and Home Advocate maintenance membership includes one tune-up for each covered system per year. So if you have coverage for your plumbing and heating systems, for example, you'll receive two tune-ups per year- one for each system. We do our best to accommodate your calendar when scheduling tune-ups, and will try to perform multiple tune-ups during the same visit when possible to save you time.
Do I get any additional discounts with my GEM and home advocate membership?
Yes! All Home Advocate members receive an additional 10% discount on any GEM services not covered by your membership.
Memberships – Inclusions & Exclusions
Water Heater System: What is Included and Excluded
Included: Will check anode rod if applicable and flush the tank and check all fittings and connections for leaks. This applies to tankless units that service domestic water only. Indirect tanks will be covered under heating system.
Outdoor Water and Sewer System: What is Included and Excluded
Includes only: Sewer and water lines from foundation to sidewalk. Jetting comes at extra cost. Maintenance will include annually putting "root" killer down the drain. We will camera the sewer line if necessary-slow to drain or flush, water quality test.
Cooling System: What is Included and Excluded
Included: All components and parts, including central cooling system, ducted electric central AC, and blower motor located in furnace if necessary for proper operation. Excluded: More than 2lbs or $200 of refrigerant, window units, improperly sized units, commercial grade equipment, systems with mismatched condensing unit and evaporative coil, duct work. rooftop units.
Heating System: What is Included and Excluded
Included: All components and parts, including one thermostat and one heat pump. Excluded: Baseboard casings, fuel storage tanks, portable units, solar heating systems, fireplaces and key valves, electronic air cleaners, humidifiers, flues, vents, duct work, commercial grade equipment and improperly sized heating systems.
Electrical System: What is Included and Excluded
Included: Repair for the electrical distribution within the interior of the home. Including general wiring, electrical panel, fuse box, circuit breaker, switches, receptacles, doorbells, thermostat wiring, and intercom wiring. Excluded: Exterior wiring, meter boxes located outside or owned by others, fixtures, smoke and CO, surge protectors, solar systems, and any wiring or other electrical located outside.
Plumbing System: What is Included and Excluded
Included: Repair of leaks and/or stoppages from the interior water, waste, or drain line between the drainage system from the main shut off valve to the shut off valve at each fixture (up to and including the valves). Excluded: Inaccessible or concrete-encased lines, items located outside of the shut off valves, fixtures, exterior lines, sump pumps, sewage ejector pumps, garbage disposals, well pumps, well pump pressure or storage tanks, water filtration or softening equipment, and toilets.
Memberships – Your Account
How do I cancel my home advocate plan?
GEM and Home Advocate membership is a 12-month term agreement, however you may reach out to our Customer Care Center at 1-877-756-1473 or by emailing our membership management team via the email address provided to you in your welcome letter to discuss cancellation at any time. Additional information regarding plan renewal and cancellation can be found in your plan Terms & Conditions.
How do I renew my GEM and home advocate membership?
When you become a Gem and Home Advocate member, your initial agreement is for a 12-month term. Your agreement will automatically renew at the end of each year for an additional 12 months unless you cancel it. You may cancel your membership at any time. Please see your Terms and Conditions for additional detail regarding membership renewal and cancellation.
How do I pay my membership fee?
When you sign up as a Gem and Home Advocate member, you'll provide a payment method, such as a credit card, debit card, or ACH. We store all payment information securely using the latest security standards and encryptions. For monthly members, we will charge your monthly membership fee to your payment method on file on the monthly anniversary of your membership date. So if you sign up on January 5th, you'll be billed on February 5th, March 5th, etc. For annual members, we will charge you for the full year when you sign up and again when you renew.
What is the additional charge for "oil"?
Maintenance for oil-based heating systems incurs an additional charge of $10 per system per month. If your systems aren't oil-based, no need to add it to your membership.
Memberships – General
If I use my own contractor for a tune-up or repair, will my GEM and home advocate membership still cover it?
Only work completed by Gem or a Gem and Home Advocate service provider is covered under your Gem and Home Advocate membership. You must contact Gem to have work performed under your membership. Any work not authorized by Gem or performed by another contractor will not be eligible for reimbursement under your membership.
My home systems and appliances are old. Does that matter to GEM?
The age and condition of your home systems doesn't affect Gem's ability to work on your home – or your ability to become a Home Advocate member. All home plumbing, heating, cooling, and electrical systems are eligible for coverage, including your water heater and outside sewer and water pipes. Maintenance coverage on oil-based heating systems is subject to an additional $10/month charge. At this time, Gem does not service appliances, but we would be happy to connect you with a company we trust and that holds the same values as Gem does.
Does GEM need to inspect my home before I become a home advocate member?
Nope! You can become a member today by signing up online or calling us at 877-622-2304, or you can join during any service visit when one of our technicians is in your home – no home inspection required. If you join online or over the phone, our technician will take a quick inventory of your home systems during your first maintenance tune-up – this helps us make sure that we have the right parts and tools on our truck whenever we visit your home, so we can solve your home service needs faster.
If I join home advocate during an annual tune-up visit, is that tune-up covered?
Yes! If you decide to sign up for Home Advocate during a tune-up, you can use your annual tune-up credit on that very same day.
What kind of homes are home advocate plans meant for?
Home Advocate memberships are designed for single-family homes, but are also great for condos, duplexes, and multi-family homes. With single-system and whole home coverage options, you can select the perfect coverage option for you. If you manage a condo building or other commercial facility, we can customize a membership for your unique needs. Contact our commercial membership coordinator for more info.
Will I ever use my home advocate plan?
How often you use your membership will depend on the coverage you've signed up for, but most members use their benefits multiple times per year. Maintenance memberships include one preventative maintenance service per year per covered system, and we'll reach out to you to remind you when it's time to schedule your annual preventative maintenance. We strongly recommend taking advantage of your preventative maintenance visits, which can help prolong the life of your systems and reduce lifetime maintenance costs.
Memberships – Scheduling
What does priority booking mean?
Priority booking a great advantage of the Home Advocate membership program. If there is a major snowstorm or a big heat wave, typically lots of customers need service at the same time. With our priority booking, we'll prioritize your appointment over non-members.
How do I reschedule my maintenance tune-up?
If you need to change the date of your maintenance tune-up, please call us directly at 877-756-1473 or email us at homeadvocate@gemplumbing.com with the details of your reschedule.
What does 24/7 emergency service mean?
Gem offers true 24/7 emergency service – if you have an emergency in the middle of the night, we'll be there! When you call Gem after business hours, we'll work with you to determine whether your service request constitutes an emergency – generally loss of life or peril (including no heat / AC or flooding). If your service request is an emergency, we'll get someone out there right away. Gem Home and Advocate retains sole discretion for defining what constitutes an emergency, but we promise to do our best to get someone out to your house ASAP to resolve your issue.
How do I book an appointment as a GEM and home advocate member?
We'd be delighted to help you book an appointment. You can book directly online, by calling our Home Advocate line at 877-756-1473, or by emailing homeadvocate@gemplumbing.com. Please let us know when booking an appointment that you are a Home Advocate member.
When can I start using my GEM home and advocate membership?
Right away! In fact, you can use your annual maintenance tune-up and member discount on the very same day that you become a GEM Home and Advocate member.
Ready To Talk To A Home Services Specialist?