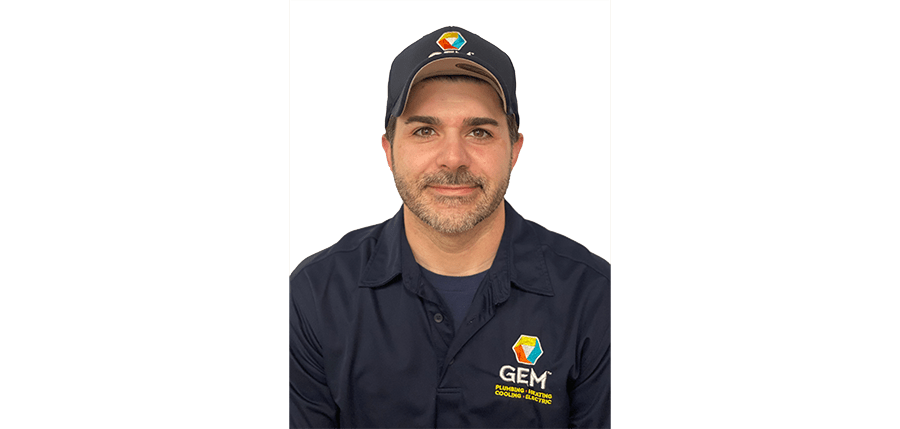 Paul D'Ambra started his career in plumbing services, and since then has built a repertoire of 15 years of field experience across the trades in Rhode Island and Massachusetts. Working on both the residential and commercial sides, he has found his home as a service manager in the HVAC department at GEM.
With so much experience in the industry, Paul's built up a lot of knowledge about indoor air quality, why it's so important, and what steps you can take to keep your air healthy and safe. We had a chat with Paul to get all the information homeowners need to know to improve their indoor air quality in New England. Here's what he had to say.
1. Get The Facts
Your Indoor air quality (IAQ) directly affects the health and safety of you and your family. Today, fresh and clean air is a top priority wherever people gather.
Issues related to the COVID-19 pandemic and the devastating California wildfires make IAQ that much more important. Seeing as the air we breathe is constantly circulating around us, the viruses and smoke hanging in the air are invisible dangers.
The good news is there are ways to reduce the risk of discomfort, and even illness. Here's where to begin — or improve — an indoor air quality program for your home.
Is The Air In My Home Safe?
According to the Environmental Protection Agency (EPA), your indoor air can be four to five times more polluted than the air outside.
These pollutants can come from different sources in your home, including your stove or fireplace, or even your air fresheners. Have a pet in your home? If you do, you're among the 75% of Americans who share space with an animal. As much as you love your furry (or not furry) friend, pets introduce all sorts of pollutants to your home.
Do you live by the ocean in coastal Rhode Island or Massachusetts, in a particularly humid climate, or in an old home? Your home may be susceptible to more mold growth and dust buildup. Pet owners and homeowners in warm and humid climates might need to focus more on air care and have their air tested.
The biggest hidden hazards in your indoor air? Those are particulate pollutants (mold, mildew, and dust), gas pollutants, chemicals (often in the form of household products), fumes, and asbestos.
How Can I Tell If My Air Is Polluted?
Here's the big problem with poor indoor air quality: it's invisible! Air pollutants are microscopic, so you may not realize they're hanging over you. Are you experiencing annoying symptoms, like constant sneezing or coughing? You might be able to attribute that to your air quality.
Beyond health effects, how do you know if your air quality is bad? The best thing you can do as a homeowner is to be proactive and test your air quality frequently.
2. Test The Air
Testing your home's air is your next step. You've got two options when it comes to monitoring and testing your indoor air quality:
Do It YourSelf
If you want to take the job on yourself, you can begin with indoor air quality monitoring.
An indoor air quality monitoring system is an always-on device that checks your air quality for particulates, chemicals, and humidity levels. Some devices will even test for carbon monoxide, carbon dioxide, and formaldehyde.
Depending on the device, it will either display the overall air quality with an indicator light, or even break down the values of each level, on its display panel, in real-time. Some smart devices can connect to an app on your phone for quick and easy-to-read results.
When you're ready to test, make sure to keep your windows closed for 24 hours before the test. Just as you can't eat or drink for eight hours before surgery, you allow 24 hours of natural, in-home air to test the baseline condition.
When your indoor air quality monitoring system doesn't test for things like carbon monoxide and radon, you'll need separate testing devices. Install and regularly maintain carbon monoxide and smoke detectors in your home. You can purchase short-term or long-term radon tests at most home improvement stores or online.
Time For A Pro
No matter how often you test your air yourself, you'll want to have it tested by a professional at least one or two times a year. Indoor air quality experts can catch things that you might miss.
It's best to have your tests conducted at the start of the spring and fall in New England, because changing seasons can wreak havoc on your indoor air. Plus, houses today are built with more insulation than they used to be, which can limit the flow of fresh air into your house, and that means allergens can build up.
Since most DIY mold tests aren't very accurate, you should opt for a mold test during your professional IAQ inspection. After all, it's best to know there's nothing putting you and your family at risk.
You'll want to keep your windows closed for 24 hours before having an IAQ inspection performed on your home. This will help set a realistic baseline to measure against, which is the most important element — after all, you're not trying to ace this test, you're trying to get to the bottom of your health issue.
3. Improve Your Routine
In between IAQ tests, you can add these steps to your indoor air care routine: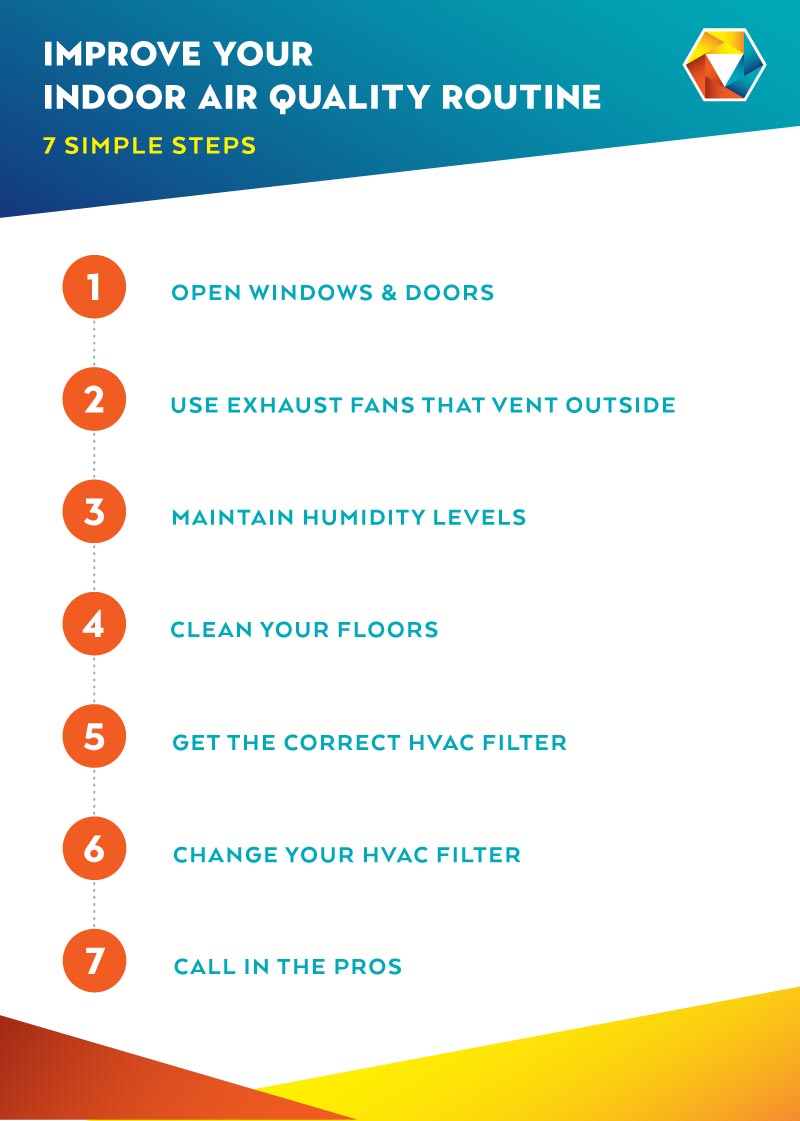 Open Windows And Doors…
A house that's really sealed up can lead to high levels of carbon dioxide, so opening your windows or doors once a week is a great habit to get into. This is especially important today, because, according to the EPA, increasing ventilation with outdoor air and air filtration helps prevent the spread of COVID-19.
… Unless It's Allergy Season
Spring and fall can bring high levels of pollen, so open windows can actually do more harm than good at these times of year! This is when an air purifier and high level filtration system comes to the rescue. These devices work to remove those allergens from your air to help you breathe with ease.
Use Attic, Window, Kitchen, And Bathroom Exhaust Fans That Vent Outside
These devices keep air moving out of your home, which will help to reduce the amount of pollution that remains inside.
Maintain Humidity Levels
Ensure a level of 30% to 50% humidity in your home all through the year. Without adequate humidity, hardwood floors will shrink, doors will open and close with more difficulty, paint will crack, and you could even experience nose bleeds.
CleaN Your Carpets And Hardwood Floors
Dust and other allergens can collect in your carpets and on your floors over time. Clean them regularly so these allergens don't mix into your air.
Make Sure You Have The Correct HVAC Filter
Every type of system has its own requirements and restrictions when it comes to what filter works best. The higher the MERV rating, the better it is for filtration, within the limits of your system. Filters called "filtrate", 3M filters, and high MERV-rated filters can constrict air flow if your system is not equipped for their level.
Have a professional assess the level of filtration that your system can handle, and then take care of them by changing them regularly.
Change Your HVAC Filters
To protect your home's air, as well as your HVAC systems, change your HVAC filters twice a year or more. You can't change your filter too often, so long as you have the right filter.
When To Call In The Pros
At the end of the day, trained professionals are important allies when it comes to your home systems. Have your HVAC systems inspected once a year, in addition to your IAQ inspection and test.
4. Consider Your Upgrade Options
Aside from routine cleaning and inspection, you can go with a more permanent, tangible IAQ solution. System upgrades or replacement devices can help — there's a solution for everyone and every system.
Technologically advanced solutions have a leg up on standard filters. Here are some devices that can improve your system's function:
Smart Thermostats
Newer thermostats circulate the air more often than traditional thermostats.
Heat Recovery Ventilation Systems & Energy Recovery Ventilators (HRV & ERV)
An HRV will dehumidify the air in your home in the summer and bring fresh air in from outside in the winter. These are adaptable and programmable with your furnace, too.
With an HRV, especially during the COVID-19 pandemic, you'll have more protection from bacteria, mold, and viruses that visitors may unknowingly bring into your home.
These options can be expensive. Depending on the system, installation costs can range from $600 to over $1000. However, you get what you pay for, and the expense is worthwhile!
Humidification
If you have a furnace, adding a humidifier can help your system improve IAQ in your home. But more humidity is not automatically better — you need the right level, since too much or too little can cause a number of problems, like asthma, allergy and cold or flu symptoms and respiratory issues.
Combine Them All
An HRV, air purifier or cleaner, filters on your system, and a technologically advanced thermostat will work together in unison. A combination of all these options is really the best solution.
5. Add To Your System
If you aren't looking to replace your old system or install an upgraded version, there are a few ways to add to your existing system to help it work more effectively.
Install Filters On Your Air Intake System
Filters are a key component to controlling pollutants, but a super-high filtration filter can hurt your system (especially if it is over 10 years old), often doing more damage than it will help. Make sure to find a happy medium.
Install Booster Fans To Your Kitchen And Bathroom
Booster fans control moisture and heat levels in a room, and are especially useful when cooking in your kitchen and showering in your bathroom. Working to remove odors and pollutants, booster fans are a great addition to your IAQ plan.
Install A Semi-Controlled Ventilation System
A semi-controlled ventilation system is a good option to put in rooms where there might be large amounts of pollutants from chemicals or particulate matter, like basements or utility closets.
Activate Your Air Care Strategy
Now that you have all of these tips and tricks in your toolkit, it's important to put your indoor air quality plan into action. Rest assured that there are several ways to improve the quality of your air, both by yourself and with the help of a professional.
Always, but especially in today's health climate, GEM is here to help you navigate the process. Check out our IAQ products and services, or speak with one of our experts about how we can help you take care of the air you breathe in your home.