The Challenge
When Meyer Jabara Management decided to renovate their 350-room Providence Marriott Hotel, they needed to do it without inconveniencing their clientele. After all, keeping guests happy is the cornerstone of the hospitality industry, and in today's competitive environment, turning away business simply isn't an option.
How do you update electrical, plumbing, heating, and more in one room, while making sure other hotel guests have no interruption in service, quality, or comfort? That was the challenge facing Frazee, Inc., the general contracting firm Meyer Jabara Management hired to lead their renovation project. Thanks to a referral from another general contractor GEM had worked with, Frazee reached out to the GEM team directly.
With decades of new construction and retrofit experience, we've mastered the art and science of building infrastructure that supports your success.
We don't subcontract any of our work, which means we have the knowledge, products, and expertise to complete every phase of the project, start to finish, exactly to plan.
The Solution
For this project, Frazee needed a partner with extensive VRF experience as well as someone who could tap into the hotel's existing water system without disruption. What they found in GEM was the multi-trade expertise they required.
"The Providence Marriott Downtown needed to stay open during the renovation, which meant their guests were still occupying rooms, and the hotel had to proceed 'business as usual,'" said Lenny Gemma, President of GEM Mechanical Services. "Our technicians are experts at installation, and also understand the value of customer service, keeping our – and your – clients happy. Our foreman and project managers take the time to appreciate the nuances of each job. Our team's attention to detail allowed us to minimize disruption, and ensure water supply and temperature were never compromised – something very important to hotel guests."
Tony Gharios, Director of Engineering for Meyer Jabara Management, agreed.
"I had the pleasure of working with GEM, utilizing many of their services, including but not limited to plumbing, heating, and cooling," said Tony. "On every occasion, GEM had either come in on the same day, or the following morning, and was able to make repairs very quickly and efficiently. I'm extremely pleased with the response and service."
As a follow-up to the initial project, GEM installed alarm sensors to monitor the domestic hot water system for breakdown or temperature issues, and we continue to provide 24/7 monitoring for the owner and hotel management.
GEM Mechanical HVAC, Plumbing, And Electrical Services
Large-scale commercial plumbing, HVAC, refrigeration, and energy efficiency solutions aren't all we offer at GEM. We also provide a wide range of services for homeowners and small businesses alike, from plumbing and drain solutions to Indoor Air Quality, and Smart Home services.
So whether you're looking for a retrofit, a complete replacement, or a mechanical partner for a new construction project, our experts can recommend and deliver a variety of solutions that are the perfect match for your project, schedule, and budget. GEM's clients can rest assured that our team does its work with top-rated satisfaction in mind, from our customers to yours.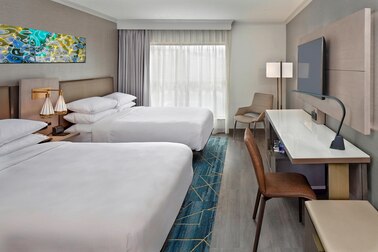 "We booked a spontaneous night at the Marriott. The staff was very friendly and helpful. The hotel is going through renovations, however it still looked festive for the holidays. Our room was one of the remodeled ones, and we weren't disappointed," said Lisa, a Titanium Level guest at the Providence Marriott.
Lisa gave her stay 5 stars. And at GEM, we settle for nothing less.
Contact Our Mechanical Team Now
Provide us with a few details, and we'll be in touch as soon as possible!
"*" indicates required fields